More info
ECOSAVR is a one-way plastic fish containing the liquid covering, which is designed to deposit on the pool bottom. A patented valve releases the liquid into the water gradually. The liquid creates a mono-molecural invisible cover on the surface. The cover is colorless, flavourless, odourless and does not affect skin.
The liquid insulation covering is easy to apply and cheap. Furthemore, it provides a realiable and precise method to ensure your pool the highest energy saving ever. In fact, it increases the pool temperature by creating a transparent covering which allows the sun energy to penetrate into the water and to reduce evaporation up to 40%.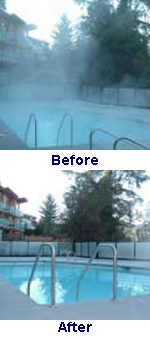 It improves the quality of air within the pool area by reducing humidity and the formation of condensation inside the buildings. It can be scheduled according to the dimensions of the pool, which ensures the correct and regular dosage of product into the pool.
One ECOSAVR covers an area of around 40 sqm for one month, larger pools require two ECOSAVR.
Don't forget to supply your pool every 4 weeks to reach the best results.
Does not interfere with filters of chemical substances except for active carbons and ozone.
Its use does not have consequences on the balance and values of pool water.