Methods for the construction of in-ground and above-ground pools
Modern technologies allow the use of different systems to build a pool. 
For the building of Inground Pool, there is the possibility to use single or double steel panels, which are also free-standing. Stainless steel panels 304. One-way formwork in polystyrene to build pools in reinforced concrete.
Instead, Above Ground Pools are realized with wooden panels, as free-standing pools in polyester with highly waterproofing PVC and anti-mold and anti-UV treatment or with powder coated steel structures fitted with wooden or woven synthetic fiber panels.
The system in fiberglass is recommended where the ground is absolutely sable and needs a base in reinforced concrete which shall be perfectly centered in addition to specific procedures during the step of new "into the ground" step. 
The system with panels, regardless if we are speaking of a system of single, double or stainless steel panels, allow to minimize building processes. In fact, it is enough to dug out and realize the platform in reinforced concrete.
Then, the structure will be assembled and the following burying will be performed using, in close proximity to the tub, gravel and sand.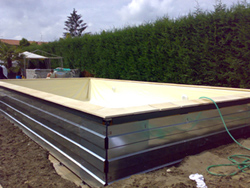 Single Stainless Steel Panels
The free-standing single steel panel is available in two models. The first features an adjustable, powder coated standing structure, zinc-plated steel panels and support for the edging.
This model is available also for above ground pools, which can be finished with synthetic fiber panels or in wood.
The other model is realized with steel panels painted with a special paint in polyester which is very resistant to corrosive agents attacks.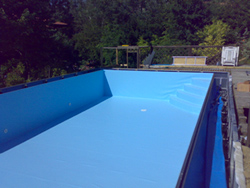 Double steel panels
The system with double steel panels allow the realization of pools with infinity edging whithout needing to build another compensation tub.

The system is entirely adjustable and can be inspected any time. In fact, the brightness of the infinity conduit, 60 cm, allows the access to the area underneath by simply emptying the conduit. This is extremely useful to inspect, and possibly replace, pool pipes without compromising the surrounding garden.
But there is more than this: in case the platform should move, there is also the possibility to restore the correct level of the tub by acting on the regulators located on the panels.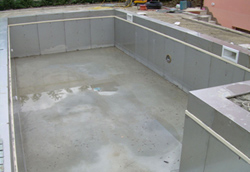 Stainless steel panels
The free-standing stainless steel panel 304 allows to realize an inground pool without lifetime problems over the time.
Furthermore,  the supply is also possible with meander or  ceramic or stonework or even mosaic coating. This solution can be matched with the internal coating in reinforced PVC.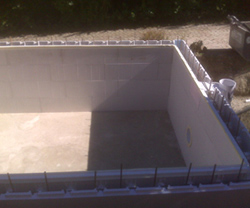 System of one-way formworks in polystyrene
This system is also called the "building block" of the pool since it consists of block of polystyrene (1.00x0.30x0.25h) m.

Easy to assemble, this system features precise joints which allow to obtain walls that are perfectly straight. 

Inside, the formwork has to be reinforced both horizontally and vertically with irons, then it is filled with concrete. 
Once obtained a wall in polystyrene to avoid the classic leveling and adjust possible imperfection or dents, the finishing adhesive mat shall be applied.
Since this system is extremely versatile and light, also free shapes are also possible. Furthermore, this system can be adapted to every setting, garden or indoor and to reach also difficult spots due to its extreme lightness.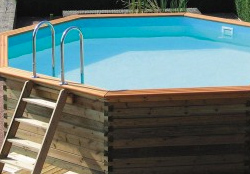 Above Ground Pools in Wooden Panels
For those who do not have the possibility, or the desire, to realize an inground pool, there is also the possibility to have an above ground pool in wooden panels.
Above ground tools, normally, have the advantage that they can be mounted without special authorizations.  
They consists of wooden panels treated in autoclave and feature a patented dove-tail slot shape which, in addition to being practical, also is safer since there are no protruding corners that might be dangerous.
These pools feature also a "real" edging where it is possible to seat; our online shop, offers pools of different shapes and dimensions.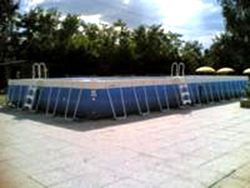 Free-standing above ground pools in PVC cloth
This is the standard above ground pool. Light blue and white with perimeter structure made of zinc-coated steel poles and white-coated poles with support in plastic.
This pool has the advantage that can be adapted to every kind of grounds. In fact, thanks to its structure with "free corners", it is recommended for grounds which are not perfectly straight. Easy to assemble, you can also assemble it on your own.