Robotic pool cleaners
For the pool cleansing, it is possible to have electric robotic pool cleaners that clean only the bottom, and are recommended for small-sized pools or pools without deep end. It is also possible to have robotic pool cleaners that clean both the bottom and the walls of the pool.

These last can also go up possible steps up to the water line.

Robotic cleaners are also available with PVC brushes and brushes suitable to mosaic/ceramic coating.



Pool lighting
For the lighting, we use only the Led technology or energy saving fluorescent lights of high quality which are exclusively Made in Italy.

We offer lighting devices able to satisfy every requirement in terms of lighting for open and enclosed spaces, vehicle entrances, spaces with high humidity (ex. wellness centers) and underwater lighting like pools and fountains. Energy saving lights are perfect also to light up foliages since they don't warm up, thereby avoiding the risk to set fire to the plants.

The catalogue includes all devices available, while the online shop includes many of these articles.

We can also quotes lighting projects for entire interiors or gardens. We use fixed white lights, fixed colored lights or changing color lights.

Changing color devices can also be connected to a unit which is, in its turn, connected to an audio system that makes the light change to the rhythm of music.

Our advice about tub lighting is to use energy saving Led lights.


Energy saving Led lights offer many advantages:
Energy saving (from 7w to 50W)

Can be white or color changing

Can be fitted into already existing recesses PAR56

Can be fitted also to above ground pools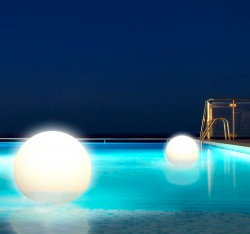 Showers
Furthermore, there is the possibility to assemble different kinds of showers at the poolside.

We can have showers using solar energy, where a storage tank exploits sun's rays to warm up water, and showers that have to be connected directly to the water supply network having both warm and cold water.

These showers can be equipped with mixers or separated taps; they can also be fitted with feet washing tap.