Air Treatment
It is important to remember that, in indoor pools and even more so in indoor and heated ones, the phenomenon of condensation plays an important role. The variation in temperature between outdoor and indoor leads to the formation of humidity on the walls of the covering or on the side walls if we are talking of an indoor pool.

This phenomenon, in addition to being unpleasant in case of use of indoor pools, can also give life to molds or ruin plasters.
To avoid all this, the solution is to install a dehumidifier. These systems have to be set according to the space volume and to the pool.

There is also the possibility to have models that heat air in addition to dehumidifying it.

They can be installed directly in the space, in an adjoining room or, in cases where volumes are very large, out-and-out channeled systems for the air treatments can be designed.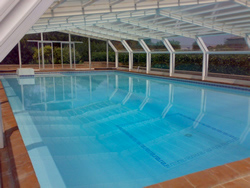 Pool covering cloth
Covering cloths are useful for many reasons. Summer clothes help to keep the temperature of the pool. If the pool is covered every time it is not used, and above all during the night, this cloth allows to increase the temperature of the pool water by 3-5 degrees. In addition to this, it is fundamental, to keep the pool clean from leaves and insects.

They are also very useful to avoid water evaporation, therefore a consumption of the products.

These clothes consist of a double polypropylene 400 micron bubbled and anti-UV layer, available in silver-gray color.

Winter covering cloths are dedicated to the winter closing of the pool.

Available in green/black color, they consist of coated polyethylene stabilized against UV rays. In addition to this, the black side, that is in contact with water, is treated with anti-mold additives.

Cloths are characterized also by a high temperature resistance- 40°C/+80°C and preserve the good conditions of your pool water for the entire winter season.

Furthermore, there are also safety winter clothes. These clothes consist of a polyester fabric coated with PVC featuring a high resistance to breakage.

On the entire length, anodized aluminum bars are fitted whose ends lie on the edging bricks, while on the two lengths anti-abrasion stripes are applied which can be replaced.
They can be hand-rolled up by means of a crank or through a 12v electric system.

The rolling shutter pool covering includes many advantages. First, it is a perfect system of warm keeping in case of heated pool. It is a safety system in case of small animals; it is versatile since it can be shaped depending on the shape of your pool and is available in different colors to perfectly fit to the pool covering and the flooring of the pool edging.

It is possible to assemble it in a dedicated space realized in reinforced concrete, therefore retractable; it is also possible to integrate it inside an already existing pool or can be mounted on the pool edging, normally on one of the shorter side.

The technology developed in these last years allows the supply to the motors of these coverings through photovoltaic panels included in the motor itself.

For indoor pools there is also the possibility to have an isothermal cloth. This cloth consists of a 100% polyethylene closed-cell foam. The upper part is reinforced by a light blue raffia while the part in contact with water features a transparent anti-scratch film. Thickness 5 mm. Water evaporation is minimized and mechanical resistance is excellent.