Heat pump All Season Hayward EnergyLine Pro, power output 18.2 kw - power consumption 3.7 kw
 
Heat pump Hayward EnergyLine Pro suitable to all seasons, power output 18.2 kw - power consumption 3.7. Perfect for all seasons up to -12°C.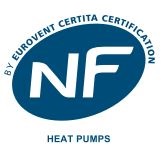 The heat pump Hayward EnergyLine Pro suitable to all seasons is NF certified by a French body as guarantee of quality of the process, from the production to the customer care, including performance levels and life of the products.

This heat pump is suitable to all seasons since it was designed for being used even in extreme conditions up to - 12 °C.
The automatic fan sets the rotation speed according to the external conditions (according to the air temperature, while during the night it decreases the rotation speed to ensure a higher quietness). Elimination of ice layers through cycle reversal.

It is equipped with a Start Temp program compatible with smartphones, tablets and PC, which allows to control and set the heat pump remotely at any time.

Hayward EnergyLine Pro for all seasons has the "reversal" and "automatic" functions to heat up and cool down the pool water.

It is suitable to inground pools even in the coldest regions.

Technical features:
Thermal power 18.2 kw;
Electric power consumption 3.7 kw;
POwer absorption 7.7 A;
COP 4.9;
Three-phase electric supply 400V/50Hz;
N.2 fans;
Sound power 899 RPM;
Direction of the air flow - horizontal;
Sound level 73 dB;
Hydraulic pipes diam.50 mm;
Water flow rate 6.6 cm/h;
Refrigerant R410A/2.3
WI-FI included

Sizes: 1138 x 470 x 1264 mm

Equipped with a cover for the winter season and supplied with refrigerant R410A/2.3 in total respect for the environment.
Delivery in 7/10 working days from the order.
No customer reviews for the moment.